To celebrate Eid Ul-Udha, the Havering Islamic Cultural Centre hosted a party to raise money for a cause which is very close to the hearts of the committee.
Medecins Sans Frontieres (commonly known in the UK as Doctors Without Borders) is a superb organisation going to the most deprived or downtrodden areas of the world, notable refugee camps and warzones, and sets up medical facilities with trained doctors. A truly inspirational charity and one we are proud to support.
________________________
Mendhi and facepainting always go down a treat! This time was no different
The Khan brothers represented Chaiiwala and Costa Coffee throughout the day!
Ozi from Poppins Restaurant – an everpresent at the Soup Kitchen – was on hand to serve customers some fresh chicken. Delicious!
As ever the wonderful Metrpolotan Police were in attendance and brilliant company.
Dr Beekeeper decided to go for the "kill them with cuteness" approach to sales. Local businessman Mr Qazi seemed to be pretty taken!
Looks like Dr Beekeeper isn't the only attendee looking to recruit them young!!
A selection of volunteers and HICC management alongside the Mayor and Councillor Patel
Mayor Patel and Councillor Patel again attend an event at the Centre. It is always a pleasure to have them.
The Costa Coffee & Chaiiwala stand, raising £1000 on the day, was very welcome to the couple.
Our visitors looking great and enjoying the weather!
Some members of the HICC executive team enjoying the shade with the iEducate team who, once again, gave a fantastic contribution to the cause…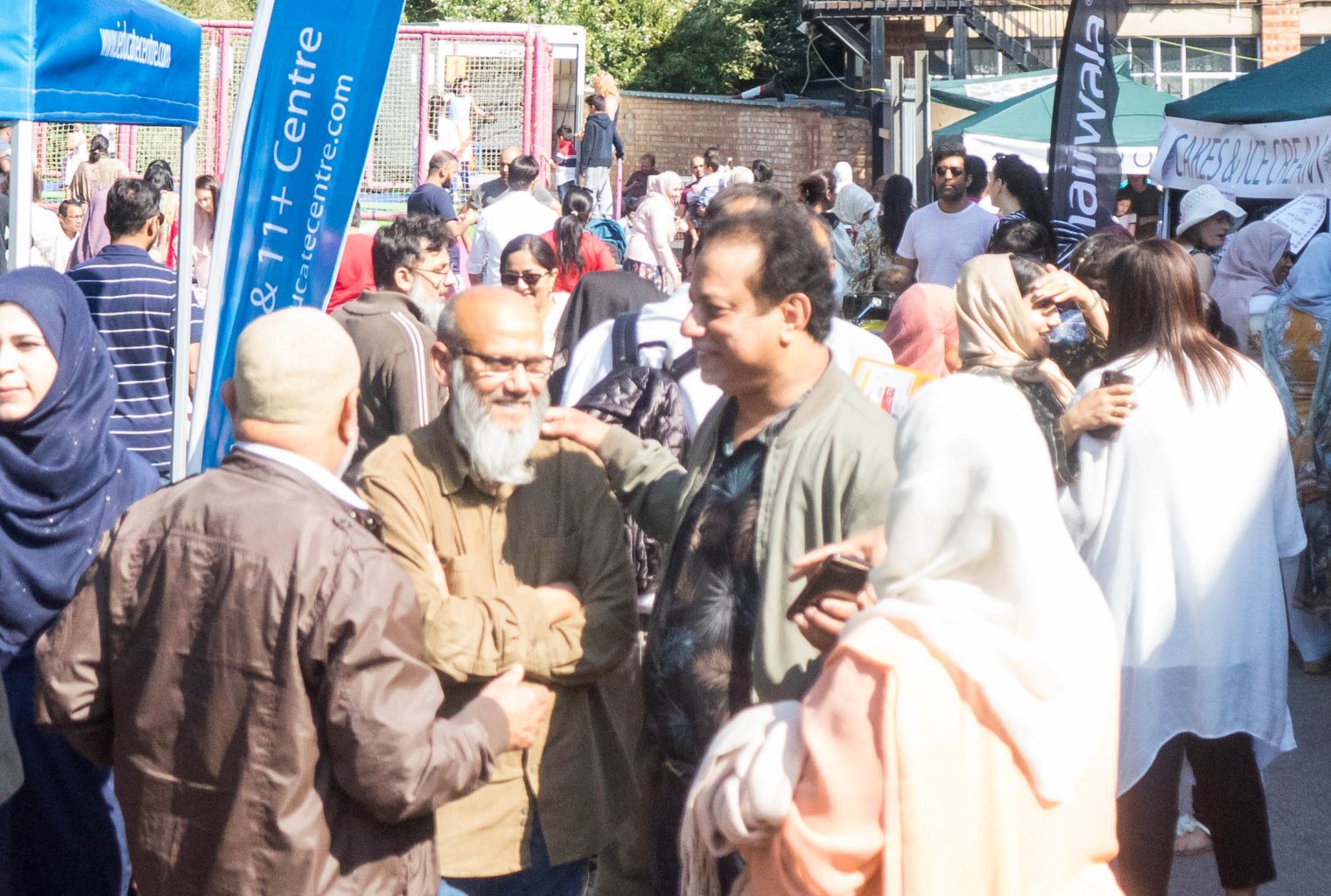 These parties are as much about building community as they are for raising money
… but a great turnout again helped HICC raise £4,500 for a charity which the Centre is ery proud to support
Some of the visitors hadn't realised they were slightly too old for the trampolines, but that didn't dampen their spirits…